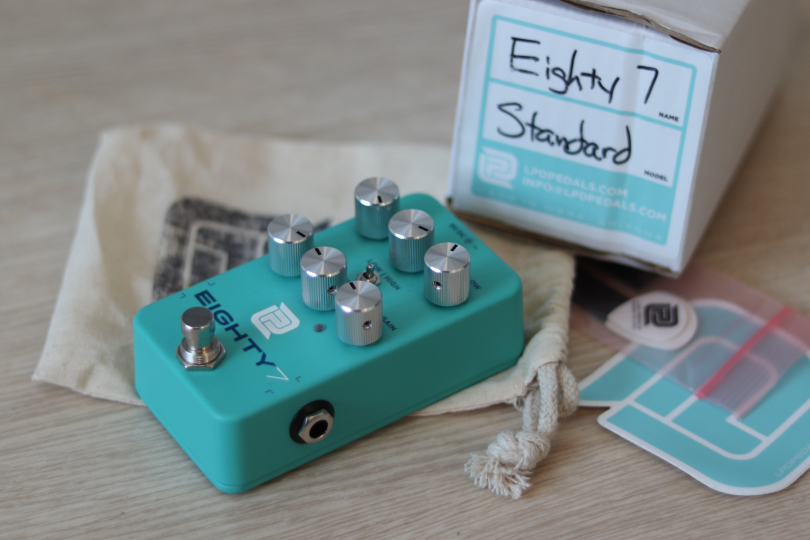 Pedalboard Gems #10: LPD Pedals Eighty 7
Having been waiting for ages due to transatlantic shipping paralyzed by the pandemic situation, finally, a not-so-well-known gem in a sexy seafoam green color landed at my place—among those in the know enjoying an outstanding reputation as one of the best MIAB effects. So, is this really the ultimate Marshall-in-a-box at last? Let's delve deeper into these "Eighties."
LPD stands for Lawrence Petross Design, the Arizona-based company of guitarist Lawrence Petross. Incidentally, he's a graduate of the famed GIT in Hollywood, where he was taught by such legends as Shawn Lane, Paul Gilbert, Yngwie Malmsteen, Steve Morse and Marty Friedman. After thirty-five years of actively playing hair, funk and other metal subgenres professionally, he switched gears and began modifying his favorite Marshall guitar amps. However, the global recession of 2008 thwarted his plans for big amps, so he tried to switch to smaller and more operational stompboxes.
Like most manufacturers, he started by modifying existing effects. First of all, he liked the very versatile Boss SD-1 circuit, which can be easily modified in many different ways. At the request of customers constantly struggling with lack of space in their pedalboards, he was making them in mini versions—which was quite unique and value-added at the time. However, having made a few hundred of his stompboxes, cheap Chinese mini effects flooded the market and completely changed the buying behavior of people who suddenly didn't want to pay higher amounts for mini boutique stompboxes—when there were plenty of them everywhere for 40 to 50 bucks. So Petross had to move again, this time switching to the classic pedal size.
When Petross toured California as a musician, he, in fact, encountered the same amplifiers on stages and in studios. So he attempted to squeeze their parameters in the Eighty 7 pedal. As the name suggests, Petross had 1987 in mind, when hair metal was at its peak and, aside from strings and picks, guitarists were spending the most money on hairspray. The '80s are often considered the worst pop culture period in history. Think of the incredible hairstyles, ubiquitous synths, carny graphics or absolutely terrifying sound of hexagonal electronic drums! However, the high-gain guitar made a big progress technically and sonically during this period, and, for example, legendary producer Bob Rock (e.g. Mötley Crüe, Metallica) more or less defined the modern hard sound for years to come. 
The LPD Eighty 7 with its green channel in the style of the hot rodded JCM800 and the red plexi super lead modified by Jose Arredondo is a direct manifestation of the eighties. The so-called Jose mode is also a modification from this era, when guitarists like Eddie Van Halen and Steve Vai started demanding more saturation, gain and overall clarity in their Marshalls. A number of manufacturers responded to this, led by the legendary Jose Arredondo, whose modifications are still used in many variations on today's instruments. The astonishing breadth of sound of the "seafoam green wonder 87" is presented by Mike Hermans in the following video.
I couldn't find this effect in Europe, so I bought it in the USA. However, due to various pandemic measures and obstructions, it didn't reach me until several months later. A neat little canvas bag was packed in the cardboard box with the logo, but just to create the initial (marketing) wow effect, as I don't know of anyone who would store or carry stompboxes in a small sack. Inside, in addition to the sticker, picks and sticky feet, the pedal itself was packed in a gorgeous greenish color. Its look had also strong impact on my decision-making process, as the older version of the pedal was, to put it politely... not so pleasing to the eye. Later, Lawrence commissioned a handy graphic designer and they worked hard on the visual appearance of the entire new LPD line. 
Six silver controls, including the entire EQ and presence, are complemented by a red and green channel switch. Those who don't find this classic format satisfying can go for the larger Deluxe version, which offers these two channels independently. Inside there is also a voltage multiplier from external 9V to internal 24V, which ensures sufficient headroom and dynamics. 
Although the pedal is primarily designed for high gain, its sonic range is quite surprising. On the green channel with weaker pickups, it approaches almost pure booster. Adding gain provides a dynamic percussive sound that works well in the mix. The red channel is more compressed for a properly full solo sound or "chugga-chugga" palm muting.
The perfectly placed EQs are noteworthy, too, where it's virtually impossible to switch a downright bad sound even on min/max settings. The dynamics of the picks are also exceptional for a stompbox, it has perfect bass response and the distortion "crunches" pleasantly. I certainly wouldn't call the sound vintage. It's compressed, tight, and perfectly suited for gritty yet articulate riffs or screaming solos, including the various accompanying odd sounds and screeches—which we love so much, though, because their natural imperfection brings a distinctive liveliness to the melodies. I have recorded the following short sample.
So, without much hesitation, I definitely recommend this member of the Marshall Master League aka LPD Eighty 7. However, the MIAB segment is filling up and the differences between the products are often only in minor nuances. So it's great that everyone can choose what suits their ear and what also responds best to their hands.
Since I've been pretty heavily into the so-called Marshall sound in a stompbox over the last year, I have a few tips for you. Looking at the cheapest category, don't be afraid to try the XVive Golden Brownie, Tone City Model M or EHX Glove. In the mid-range, look at Carl Martin Panama or PlexiTone (in many variations), MI Effects Crunch Box, Friedman (again in multiple variations) or Zvex Box Of Rock. Of course, the exclusive boutique segment offers even more awesome stompboxes such as Ramble FX Marvel Drive, Wampler, Bogner, JHS, or the Venezuelan exotic PedalPalFX PAL800.
Some boxes are now at such a level that with the right preamp and IR loader they can meaningfully replace large and heavy full tube heads. Indeed, more and more people are doing so. So next time we'll look at what to plug them into and how to create an easily portable preamp board.
If you have found an error or typo in the article, please let us know by e-mail info@insounder.org.