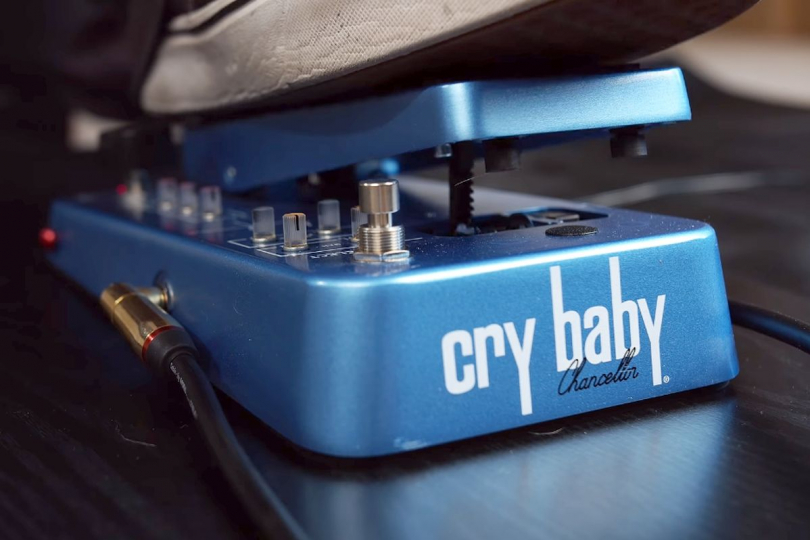 Dunlop JCT95 Justin Chancellor Cry Baby Bass Wah Pedal
Jim Dunlop has introduced another addition to the Artist Edition series of wah pedals, the Dunlop JCT95 Justin Chancellor Cry Baby signature pedal, built to the specifications of the bassist of the Tool. The new model includes frequency filters and fuzz in addition to the wah-wah. By combining these sections, a wide range of sounds can be created, from the classic wah register through smooth tones evoking the sound of a synthesizer to aggressive-sounding sweeps with significant distortion.
The U.K. Filter mode uses a custom solid-state circuit designed according to the envelope custom filter of the tone driver on Justin's own instrument. This mode perfectly captures the sonic character of the bass parts in "The Patient," track of Chancellor's home band Tool (Lateralus, 2001).
The distortion circuit is inspired by the British vintage fuzz, which, compared to other versions, provides a more emphatic projection that allows the bass part to pass through the band mix better, while still retaining enough low end so that the instrument's tone doesn't lose volume. A classic example of this sound can be found in some parts of the "Jambi" song from Tool's 2006 album 10,000 Days.
The wah-wah offers a pair of modes (Standard / U.K. Filter) controlled by a foot pedal equipped with a spring returning the segment to its default (deactivated) position. Modes are selectable via the Wah Select footswitch, and each has its own differently illuminated mini volume and Q functions – bandwidth. The wah circuit uses a red Fasel coil, and plenty of bass is provided by amplifying the original signal in the 400 Hz band and then mixing it with the effects branch.
Next to the modes above, another Fuzz Select footswitch can be used to connect a distortion section adjustable at any time via a trio of Fuzz, Tone, Volume controls. If the player wants to use the fuzz independently, they just need to press the red button on the right side of the chassis sprayed with blue metallic lacquer. A small Bypass/Delay pot is also integrated, affecting the rate of the standard mode start-up when the foot is taken off the pedal.
The flexible bass wah pedal on the Dunlop JCT95 Justin Chancellor Cry Baby is powered by a standard 9V adapter or a battery stored in a plastic shaft at the bottom of the effect. The official price has been set at just under $300 for the US part of the market. A so-called Pedal Topper is also included to make it easier to activate the fuzz and switch wah modes simultaneously.
If you have found an error or typo in the article, please let us know by e-mail info@insounder.org.