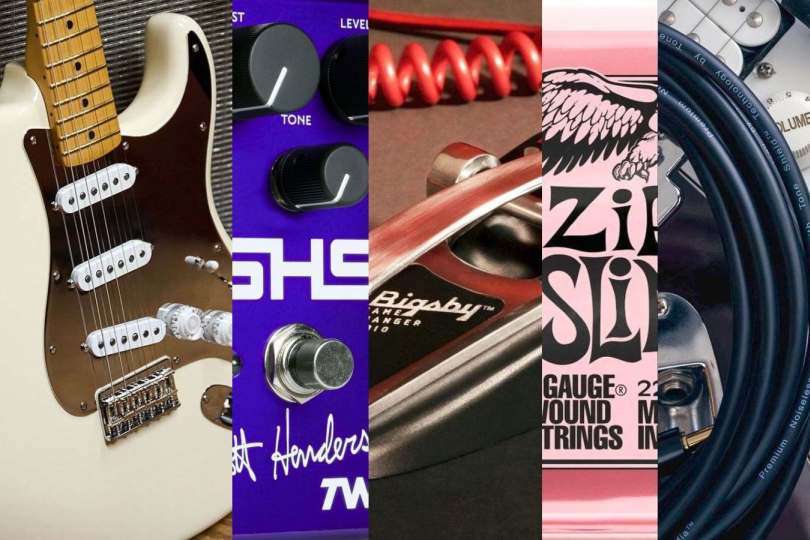 Guitar Gear Alert: June 2022
Are you a guitar fan? On the first Monday of each month, Insounder's news section will present a quick overview of new guitar gear that is about to hit the market. Guitar aficionados can thus get a general overview of the latest models of instruments, amplifiers, effects, or various accessories—strings, tuners, capos, etc. Technical equipment for bassists, drummers, keyboardists, singers, DJs, sound engineers, etc., will be presented in an overview on the third Monday of each month. Selected news will be presented in more detail in later posts.
Guitars
Nik Huber Bernie Marsden Signature Orca '59 – a special limited edition based on the ageless Les Paul, built to the specifications of the former Whitesnake guitarist, consists of 12 pieces of the Flame Top model and an equal number of Gold Top versions, which, in addition to the maple top treatment, differ in pickup type, with the FT variants offering a pair of PAF humbuckers with metal covers, while the GT version features P-90 single coils. Compared to the Gibson predecessor, the signatures get a more pronounced guitar body top milling, a different headstock shape and only three pots (2x Volume + 1x Tone). The prices of the instruments have not yet been published at the time of writing this article.
Fender Nile Rodgers Hitmaker Stratocaster – the second edition of the signature model built to the specifications of the American musician, composer and award-winning producer is again inspired by his favourite Stratocaster from the 1960s. Like its long-standing predecessor, the new addition features a slightly more compact alder body and maple neck compared to the classic Strats, as well as a 9.5-inch radius fretboard with 21 medium jumbo frets. A trio of single-coil Hitmaker Nile Rogers Strats are followed by traditionally conceived electronics, with the choice of a solid hardtail bridge, locking Sperzel tuning machines, chrome-plated brass pickguard and Olympic White lacquer. Price including luxury hard case: approx. 2.800 euros.
PRS SE A40E 2022 – an electroacoustic guitar whose body with cutaway consists of ovangkol back and sides and a solid sitka spruce top. The mahogany neck with Wide Fat profile is complemented by an ebony fretboard bearing 20 medium frets, traditional bird inlays and a bone walnut. Real bone was also used to make the saddle inlayed into the ebony fretboard, and tuning is provided by all-metal company tuning pegs. The PRS/Fishman pickup system is a major innovation, with a Sonitone piezo pickup and a module (Volume + Tone) mounted under the edge of the soundhole. The instrument in transparent Natural or Tobacco Sunburst costs about 800 dollars including the hard case.
Effects
TWA SH9 Scott Henderson Signature Distortion – the jazz-rock magician's distortion, designed by Japanese Tube Screamer designer Susumu Tamura based on his popular Maxon SD-9. He has of course kept the sonic foundation of the model but accentuated the projection of bass and mids, adjusted the treble characteristics and, last but not least, increased the volume range dramatically. Built on the well-known JRC4558 operational amplifier, the model can be powered by a 9 or 18V adapter; true bypass and high-end components (Nichicon & Kemet, Marushin, KOA/Speer, etc.) are installed. Price: approx. 300 dollars.
Dreadbox Disorder – an aggressive sounding transistor fuzz complemented by self-oscillating filtering, allowing to create unconventional sound textures. The effect is suitable for guitar and bass thanks to a high-pass and low-pass filter combined with the Resonance parameter. In addition to the aforementioned controls and Level / Fuzz knobs, the effect also has an envelope section with polarity selection and two CV outputs (Filter, Env Out) with their own sensitivity, so users of various modular synths, etc., will also find it useful. Dimensions: 14 x 10 x 5.6 cm, current consumption: 50 mA, price: approx. 130 euros.
Free The Tone RJ-2V Red Jasper Overdrive​ – the RJ-1V drive successor, the production of which was discontinued in 2018 due to lack of necessary components, is characterized by a sound reminiscent of the vintage tube amplifiers. The effect, assembled from select components, offers nice smooth highs, strong mids, full bass, decent compression and lets the character of the instrument involved shine through. In addition to the traditional Level and Drive parameters, the pedal, sold for around 200 euros, is equipped with a Hi-Cut pot affecting the expressiveness of the high bands; a pair of switches for selecting the four modes affecting the bass frequencies is placed inside the chassis.
Gamechanger Audio Bigsby Pedal – a revolutionary polyphonic pitch shifter designed with Fender features the enhanced characteristics of the Bigsby vintage guitar tremolo, which is also reflected in the design of this effect. The SHARC processor produces hybrid algorithms and controls consist of backlit Rate, Blend, Depth wheel pots with Detune and +- sub-functions. In addition to input, output and socket for 9V adapter or Invert switch (tone shift direction), the effect is equipped with output for external exp. pedal or footswitch and a mini MIDI In connector, providing control via CC messages, creating or storing 10 presets or synchronizing modulation speed. Price: approx. 380 euros.
Amps, combos, preamps, stompboxes, etc.
Orange Marcus King MK Ultra – a signature all-tube amplifier, first designed and manufactured by the American Custom Shop. The single-channel, hand-assembled unit, equipped only with bass, treble and volume controls, is built from choice components including custom Heyboer transformers; the preamp uses a pair of 12AX7 tubes and two 6L6GC tubes deliver 30 W of power. Heading more into American sound territory, the MK Ultra offers sonic flexibility, responsive dynamics, good response to working with the guitar's Volume potentiometer, and it's great with preset effects. Price: approx. 3000 euros.
Victory V4 Jack, Copper a Sheriff – pedal amplifiers with a hybrid concept consisting of a tube two-channel preamp (3x Mullard CV4014, 1x EC900) and a Class-D V.R.C. end unit, producing 180 W of power at 4 ohms impedance. Two Notes Audio supplied DynIR technology with six presets of cabinet IR pulses, and the Torpedo Remote app provides access to ten Victory DynIR samples. An effects loop, digital reverb, USB port, two line outputs, mini-jack headphone connector and a handy power output for effects (9V/500 mA) are integrated. Victory V4 Jack – the sound à la Guthrie Govan, V4 Copper – the sound of Vox amps, V4 Sheriff – the sonic character of the Marshall Super Lead model with enhanced gain. Price: approx. 1000 dollars.
Accessories, software, etc.
Ernie Ball Zippy Slinky a Hyper Slinky – Slinky series strings for electric guitar are now also available in diameters that should suit players who prefer an extremely "soft" coating. The Zippy Slinky (7, 9, 13, 20w, 26, 36) and Hyper Slinky (8, 11, 14, 24w, 32, 42) sets feature nickel-plated windings with a hexagonal steel core and offer the traditional sound and features of this long-time favourite.
Ernie Ball Earthwood Custom – acoustic guitar strings get a trio of new additions, including the Custom Light (11.5, 15.5, 22w, 32, 44, 54), Custom Medium (12.5, 16. 5, 24w, 34, 46, 56), and 12 String Custom Light (10-10, 14-14, 22w-9, 30-12, 10-18p, 48-28). The sets are available in Phosphor Bronze or 80/20 with tin-plated smooth high carbon steel strings. Prices: approx. 10 euros.
Tone Vault Audio Professional Series – premium quality instrument, effects and microphone cables from the American brand. Durable connectors made of cast zinc, conductors made of oxygen-free copper (99%), solder points protected by shrink wrap, contacts coated with 24K gold, RFI/EMI resistance. Lengths of cords: approx. 0.9 and 6 m (prices $25 and $45), length of jumper cables: approx. 15 cm, price for a set of 3 pieces 30 dollars.
Bogren Digital AmpKnob RevC – a plug-in, created by Swedish metal producer Jens Bogren (Arch Enemy, Amon Amarth, Opeth, Sepultura, etc.), should, with the help of only one gain control, bring to the recording a guitar sound that is aggressive enough to score points in Bogren's favourite genre. The software, in VST/AU/AAX formats, is based on the early Mesa Boogie Dual Rectifier series from the appreciated RevC product line (early '90s) and is offered by the company for an introductory price of about 40 euros. A ten-day trial version is also available.
If you have found an error or typo in the article, please let us know by e-mail info@insounder.org.