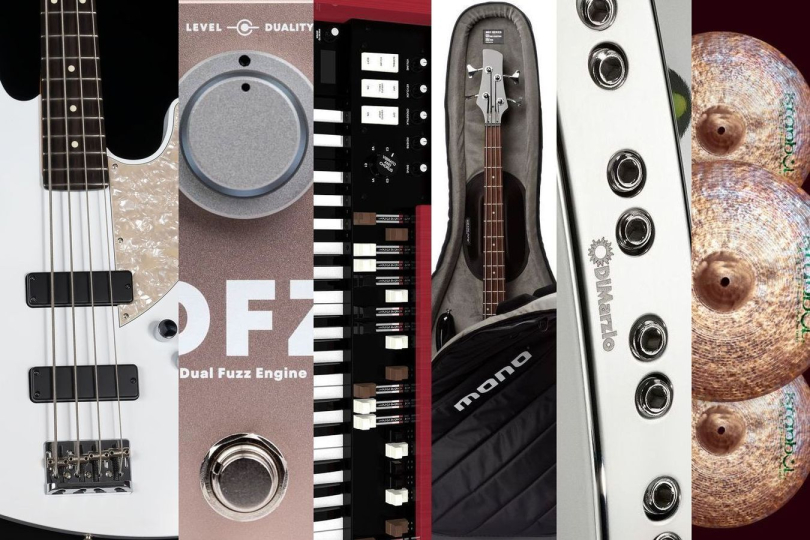 Miscellaneous Gear Alert: January 2023
Do you play bass, drums, or keyboards? Are you DJ, singer, sound engineer, or a studio aficionado? Then every third Monday of the month is "your day" here on Insounder—with a quick overview of gear and new releases that will be on the market in the current or upcoming period and that you shouldn't miss. A similarly conceived article is dedicated to technical equipment for guitarists every first Monday of the month. Some of the products introduced in this overview will be discussed in more detail in later posts here in the News section.
Bass guitar
Fender Made in Japan Elemental Jazz Bass – a four-string modified classic with modern features such as an ergonomically contoured joint of a maple neck and alder body, designed with five screws, and a pair of Modern Modified humbuckers connected to an active circuit with two-band corrections, blend and volume with push/pull active/passive mode switch. The C-D variable radius rosewood fretboard carries 21 medium jumbo frets, and the HiMass (top-load/string-through) bridge is complemented by open-gear tuners. Colours: Nimbus White, Stone Black, unconventionally shaped mother-of-pearl pickguard. Price: 1250 dollars incl. gig bag.
Ibanez EHB1005F AOM – five-string headless model from the Bass Workshop edition has a basswood body and a blue Richlite blend fretboard, matching the colour of the instrument. The neck, attached with five screws and reinforced with carbon plates, is glued out of walnut and thermally treated maple, the zero fret is 45 mm wide, and the scale length is the standard 34 inches. Tuning is handled by a system designed as part of the MR5HS bridge with 18 mm string spacing, two Bartolini BH2 passive pickups combined with a Vari-MID III active circuit with three-band corrections (parametric mids) are installed. Colour: Arctic Ocean Matte; price including gig bag and Schaller S-Locks: approx. 1200 euros.
Darkglass Duality DFZ – a minimalist bass fuzz that, at the request of many fans of the brand, continues the legacy of the now discontinued Duality Dual Fuzz Engine. The compact chassis carries only a dual coaxial potentiometer for volume and mix parameters to smoothly adjust the ratio of two independent distortion circuits, providing either a dense high-gain fuzz or the familiar gated tone with a sawtooth wave. Below the bottom of the pedal are two more trimmers – Blend: a mix of clean and overdriven signals, and Filter: trebles for the fuzz. Price: about 150 euros.
Lusithand Devices 800TS Jazzplate – a Jazz Bass preamp supplied in the form of a chrome panel with controls and electronics, whose equalization section is taken from the Gallien Krueger 800RB. In addition to the four-band EQ (60 Hz, 250 Hz, 1 kHz, 4 kHz), volume, blend (smooth mix of pickups or second volume) and output jack, two lever switches are integrated – one for selecting active/passive modes, and the other allowing selection from a trio of voicing modes. A DC voltage of up to 27 volts (3x 9V batteries) can be used to power the circuit with a current draw of approx. 2mA at 9V, the level of which affects the dynamics and firmness of the resulting tone. No soldering iron is needed when installing the preamps priced at £180 and £185 respectively (Volume + Volume or Volume + Blend).
DiMarzio Relentless P and J – after more than two years since the first Relentless pickup designed for Billy Sheehan, the brand returns to this edition with the Relentless P (DP299), Relentless J Bridge (DP301), Relentless J Neck (DP300) and Relentless J Pair (DP302), designed for four-string basses. The coil covers have rounded edges and a radius that follows the height of the strings, strong neodymium magnets have been used, shielding ensures low noise, the magnetic field has been extended and the base plate with mounting holes has been redesigned. Prices: Relentless P – approx. $120, J – approx. $110, J Pair – approx. $210.
Mono Vertigo Ultra Bass M80-VEB-BLK – quality gig bag equipped with The Boot rubber bottom, detachable patented FREERIDE wheel system, upgraded Headlock neck grip, integrated panels made of durable ABS plastic or attachments for optional Classic Tick Accessory Case. Ballistic 1680D nylon has been used as the surface material, and there are high-end YKK zippers, plush interior linings, reflective trim, back support, straps, storage compartments and more. Internal dimensions – length: 122 cm, max width: 37 cm, height: 7.6 cm. Price: approx. 270 dollars.
Keyboards
Viscount Legend Soul 261 and 273 – digital organs using a new technology of modelling creating the same type of sound like older organs with classic mechanical wheel system. The 261 version features two Viscount keyboards with 61 keys, while the model adds an additional 12 reverse keys to each. Both instruments have four sets of nine rods, and you can also select transistor or pipe organ registers or 15 bass sounds tied to the pedals. The Left Hand Bass function routes the two lower octaves on the lower keyboard to another output, reverb, master Eq, wah, phaser, ring modulator overdrive, etc. are integrated. DIN MIDI connectors, 4 outputs, send + return, USB port and 11-pin socket compatible with Leslie boxes are installed. Prices: Legend Soul 261 approx. 3600 euros, Legend Soul 273 approx. 5000 euros.
FutureRetro 777 – the American boutique brand returns to the market with a reissue of the bass analogue synthesizer, representing an improved version of the well-known Roland TB-303. The Synth 777 is capable of offering up to 256 patterns, 16 tracks, percussion sound generation, lead parts and, compared to the iconic Roland, features a doubly powerful oscillator, FM section, white noise generator and an expanded modulation unit. MIDI, CV/Gate, including MIDI to CV conversion, and other features not yet officially introduced by the manufacturer are ready. The price of this synth is not yet known either.
Drums
Istanbul Agop Signature Series – a special cymbal edition featuring models designed for Lenny White, Mel Lewis, Idris Muhamad, Cindy Blackman and other players who have worked with the brand over the years, including versions by Agop founder Tomurcuka. The variants are usually characterized by a darker, drier sound and are visually clearly recognizable thanks to the green logo. The following models are available: Agop Signature Hi-Hat: 13"/14"/15"/16", AS Crash: 16"/17"/18"/20", AS China: 16"/18"/20"/22", AS Ride: 19"/20"/21"/22"/23"/24"/26", AS Flat Ride: 18"/20"/22" and AS Medium Ride: 22". Prices for hand-hammered B20 bronze alloy cymbals start at around 250 euros for a 16" crash.
Tama 1St Chair Round Rider HT430 – the limited edition of one of the best-selling drum stools is now available with a seat covered in a luxurious fabric used for exclusive furniture. The soft and sufficiently strong fabric in Orange, Sage or Navy Blue covers the 34 x 10 cm round seat, complete with dual legs providing the necessary stability and reduced centre of gravity, and integrates the reliable Glide-Tide clamp and Seat Link. The height range of the adjustable threaded shaft is 485 – 655 mm and the weight is around 6.2 kg. Price: approx. 170 euros.
Donner DED-20 – affordable, compact electronic drum pad, designed primarily for practice, includes silicone surfaces dedicated to snare, trio of toms, hi-hat, crash and ride. Of course, two pedals (hi-hat + bass) can also be added, and a stereo power amplifier with a pair of speakers is built in. The integrated module offers the sound of standard kits, 12 demo songs, 9 accompaniments, a recording section (3 minutes of recording) and other features. Connectivity consists of a headphone jack, Aux In, USB-C port (MIDI/5V) and a jack input for the two aforementioned pedals. Dimensions of the motherboard including control tube and speakers: 40 x 32 cm, weight: 1 kg. Price, including drumsticks, pedals, adapter, wiring and 70 lessons: approx. 70 dollars.
DJ
LD Systems Dave G4X Series – a new edition including four 2.1 type active sound systems, including the Dave 18 G4X (4000 watts, 18-inch subwoofer + two 8-inch satellites), Dave 15 G4X (2060 watts, 15-inch subwoofer + two 8-inch satellites), Dave 12 G4X (1460 watts, 12-inch subwoofer + two 6.5-inch satellites) and Dave 10 G4X (680 watts, 10-inch subwoofer + two 4-inch satellites). A six-channel mix is built into the subwoofer for connecting line signals, microphones or instruments, and a wireless Bluetooth streaming module is provided. Compared to the G3 series, the system gets improved waveguides, compression converters, FIR filtering and a powerful DSP engine. The subwoofers have a larger coil and optimized bassreflex. Prices: the Dave 10 G4X approx. 630 euros, the 12 G4X approx. 1250 euros, the 15 G4X approx. 1600 euros, the 18 G4X approx. 2000 euros.
Studio
Roland Drum Machine Collection – five plug-ins for Roland TR-808, TR-606, TR-909, TR-707 and TR-727 rhythm machines, whose sound has been an integral part of countless compositions over the past 40 years. The company's ACB (Analog Circuit Behavior) modelling technology was used to bring realistic reproduction of the sound of the now legendary hardware templates. In addition to the original presets, new presets have been added, expanding the control options, number of effects, etc. You can use VST3, AU, AAX formats or native support for Apple Silicon. By purchasing a lifetime key, the user gets free access to future updates. Price: 499 euros, 30-day demo version available for download.
sE Electronics DynaCaster DCM3 and DCM6 – Dynamic studio microphones with a cardioid capsule primarily designed for voice recording. The DCM6 version also features an integrated Dynamite preamplifier, powered by a 48V phantom and providing up to +30dB of amplification. The all-metal housing is complemented by a patented vibration-eliminating bracket, the grille is protected by a pop filter, and the output XLR connector contacts are gold-plated. Fitted with a neodymium magnet coil, the microphones have identically shaped bodies, measure 158 x 86 x 62 mm, weigh just under 520 g and have a frequency range of 40 Hz to 18 kHz. Prices: DynaCaster DCM3 approx. 120 euros, DCM6 approx. 170 euros.
Antares Auto-Tune Producer – a package of nine plug-ins for editing recorded vocal parts, excels in ease of use and professional results, including access to a range of tutorials with an extensive library of educational presets and other audio content. The set offers the following plug-in types: Auto-Tune EFX+, A-T Vocal EQ, A-T Vocodist, A-T Slice, A-T Choir, A-T Duo, A-T Articulator, A-T Warm and A-T Auto-Key. The app works with Windows 10/11 or macOS 10.14 to 12.x. VST3, AAX. Also, VST3, AAX and AU formats are available. The introductory price of the Producer variant has been set at $13.99/month or $99/year, the Unlimited version works out to $24.99/month or $174.99/year. A free 14-day trial is also available to try.
If you have found an error or typo in the article, please let us know by e-mail info@insounder.org.