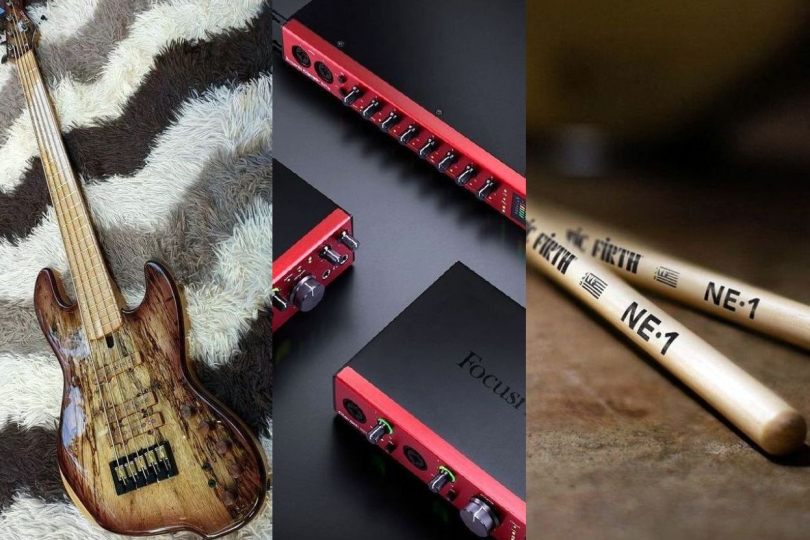 Miscellaneous Gear Alert: November 2021
Do you play bass, drums, or keyboards? Are you DJ, singer, or sound engineer, or a studio aficionado? Then every third Monday of the month is "your day" here on Insounder—with a quick overview of gear, new releases that will be on the market in the current or upcoming period and that you shouldn't miss. A similarly conceived article is dedicated to technical equipment for guitarists on every first Monday of the month. Some of the products introduced in this overview will be discussed in more detail in later posts here in the News section.
Bass guitar
A five-string signature model built to the specifications of this American bassist and producer. The body made of swamp ash is complemented by a top made of exotic-looking maple, the same type of flamewood was used to build the neck and the fingerboard is made of birdseye maple with 24 frets. The instrument with a classic 34-inch scale length features three specially wound single coils with Alnico magnets.
The pickups are connected to EMG B64RL active electronics with a three-band equalizer, while other controls consist of a volume control, a balance potentiometer, an active/passive switch, and a three-position switch selecting between single, series, or parallel wiring. The strings are anchored in a Leones H505 topload bridge (18mm spacing) and the headstock is fitted with lightweight Hipshot Ultralite tuning machines. The KJ5 is custom-built in the Indonesian Custom Shop, and interested buyers can get it for $1500—including a gig bag and Dunlop strap locks.
Four-string bass using the patented MFG (Magnetic Field Design) humbucker, with a design evocative of Music Man pickups. The bridge humbucker, developed by Leo Fender, is linked to volume controls, tone controls, and a three-position switch for uncoupling the coils and connecting them in series or parallel.
The poplar body is combined with a bolt-on maple neck, and the company's hardware was used, consisting of a G&L Saddle Lock bridge, chrome tuning machines with cloverleaf tuning keys, and a pressure wheel for the DG strings. The Candy Apple Red version features a black three-ply pickguard, a maple fingerboard with 21 frets and black rectangular markers, while the Black Frost variant offers a rosewood fingerboard and mother-of-pearl markers.
Wireless 3D bass headphones, based on the Waza-Air guitar model. The system brings together an amplification section with five amp types, an effects unit containing over 30 items, and three listening mods. The headphones have a built-in gyroscopic sensor to situate your playing in a virtual 3D environment, basic controls are located on the ear cups, and wider editing or preset organisation is handled by the company's Tone Studio software, compatible with Android and iOS platforms.
Surround, Static, and Stage modes can be selected; a small WL-T receiver (included in the package) is used for wireless connection of the instrument; Bluetooth can be used; and through the aforementioned app, the user can access 10 drum patterns, 6 presets, tempo settings, a chromatic tuner, a metronome, and more. Waza-Air Bass is powered by a Li-Ion battery rechargeable via USB-C port. The European price has been set at about €480.
Keys
These digital pianos, which are aimed primarily at students or beginners, are among the best that the current market has to offer in this category of instruments. Both models are equipped with an 88-key hammer action and the small chassis depth of 232 mm allows the piano to be placed in smaller rooms. Compared to the older series, the new products also boast a modified circuit that simulates the resonance of classical strings, promising a more realistic reproduction of the complex harmonic components of an acoustic piano.
Connectivity is supported by Bluetooth 5.1 wireless, through which the pianos communicate with the free Chordana Play for Piano editing and learning app, which also serves to edit various parameters in detail. Like the PX-S1100, the higher-end PXS3100 version has a built-in speaker system; however, unlike the cheaper version, it offers a modulation wheel, a bank of several hundred sounds, 100 effect presets, a multitude of rhythm patterns, demo songs, and more. The PX-S1100 has stereo audio outputs, two headphone jacks, pedal inputs, and two USB ports. The PXS3100 adds an Aux In and an expression pedal output.
One of the most popular vintage drum machines of the Rhythm Composer series, whose sound can be heard on many famous albums, is now also available in a software format based on patented Analog Circuit Behavior technology. The algorithms emulate the original sound of these devices, and the manufacturer has also added several modern features, some of which can also be found in the younger successors to these icons.
For example, a sequencer with mute, solo, last step, or adjustable shuffle mode for each instrument can be used; and accents, triggering, alternate sounds, sub-steps, nine types of multiple beats, etc. can be implemented. For the samples, the player can choose the level of attack, decay, and tuning, and there is also a new overdrive and envelope section. Plug-ins in VST, AU, and AAX formats are compatible with macOS 10.9 and above or Windows 7 SP1 and above (64bit). The price is consistently under $150.
Drums
Electronic drums with real wooden bodies made of birch are represented by the K-X and K-M versions. The K-X features TCS proprietary pads, while the higher K-M series has Remo double-layered mesh membranes. The five-piece DTX8 series with KP90 bass pad comes with the DTX-PRO module familiar from the previous DTX6 set, while the more luxurious DTX10 edition with KP128 bass drum is combined with the top-of-the-line DTX-PROX station.
The sets include RS8 or RS10-HXR ramps, and depending on the type of set, the cymbal segment varies, consisting on the DTX8 of a single 15" rim, a pair of 13" crashes, and a hi-hat with HS650A stand. The two DTX10 models include a 17" three-zone PCY175 ride, two PCY155 crashes, a PCY135, and a two-zone RHH135 hi-hat on an HS740A stand. The sets will soon be available on the European market, with prices for the DTX8 starting at around €2,420 and the DTX10 around €3,780.
This signature snare, designed for the drummer of The Police, follows in the footsteps of the older SC145 model and this time commemorates 40 years of cooperation between the Japanese brand and this musician. The 14 x 5-inch drum, with the product designation SC145A40, is constructed from 1.5mm thick bronze plate with a raised ring.
Chrome-plated MSL35 shells hold a total of twenty tuning screws; and triple-bent 2.3 mm steel rims, the proven MLS50A/MLS50B silent-mode mechanics, and a Starclassic MS20SN14S stringer fitted with twenty carbon steel springs were used. Copeland's anniversary snare is produced in a limited edition of 200 pieces, with the model in the elegant Antiqued Brass finish going for around €600 in European stores.
Signature drumsticks of two excellent players, moving in many musical genres. The Vic Firth Nate Smith model is made of hickory wood with a diameter of 13.6 mm and a length of 406 mm. It is therefore slightly narrower in length than the standard 7A version. The medium-long body end ensures perfect balance, while the rounded tip provides good articulation at any strike angle and a rich, clean cymbal sound.
The Classic NE-1 Mike Johnston variant, like the Nate Smith model, is made from premium American hickory. With a diameter of 14.7 mm, the stick ranges between the well-known 5A / 5B models and scores points with its versatile use. The longer taper and 406 mm dimension gives the mallet a nice bounce and the necessary balance, while the barrel-shaped tip delivers a clear response and a focused, slightly darker cymbal sound.
DJ
A standalone DJ controller from an American brand that has integrated a complete mixing unit, a stereo sound system, an effects section including three-band equalizers, and a host of other features into this flexible professional all-in-one station with a dedicated Engine OS at its heart. In the middle of the main panel is a 7-inch multi-touch colour LCD display, a built-in sound card, the possibility of online streaming and track playback from USB flash drives, as well as a section for controlling a light show via DMX.
A microphone can be connected to the station via a jack input with its own volume; the headphone output is handled by both classic TRS and minijack; on the front of the chassis we find two XLR audio outputs, the same number of RCA outputs, a trio of USB ports, an SD card slot, and a 12 V adapter socket. The Numark Mixtream PRO, measuring 32.5 x 25.6 x 6.6 cm and weighing 1.22 kg, is available on the European market for about €580. The box also includes software and USB + Aux cables.
Studio
This top-notch rack equalizer suitable for professional studios is a replica of the vintage mono equalizer used for years in Detroit's Motown studios. The single-channel, seven-band passive design in a 2U format boasts quality components and custom copies of original discrete components that meet military standards.
Signal strength can be fine-tuned with a gain control and adjusted at 50 Hz, 130 Hz, 320 Hz, 800 Hz, 2 kHz, 5 kHz, 12.5 kHz with +- 8 dB of travel. Like the master, Heritage Audio's analogue, hand-finished Motorcity EQ offers a warm, musical, punchy sound without unwanted artefacts—and, in the opinion of the American brand's chief engineer, is the only hardware equaliser capable of competing with the popular Pultec equaliser today.
The "Plus" series of USB-C sound cards from this well-known manufacturer includes the +2Pre, +4Pre and +8Pre models, representing an improved series of the popular previous edition. The Air analogue function has been incorporated, bringing the sound of ISA 110 microphone preamps from the classic Focusrite studio desk, the DACs have seen their dynamic limit increased to 124dB, and the headphone unit has been modified to offer a balanced and clearly articulated listening experience.
The official European prices of Focusrite sound cards from the Clarett+ collection start at around €500 for the +2Pre model, the Clarett+ 4Pre goes for around €700, and for the Clarett+ 8Pre rack module the buyer will pay just under €1000. Each interface comes with a collection of software, including mixing plug-ins, virtual instruments, and other items.
Compact inline preamplifier designed for passive dynamic or ribbon microphones. The updated version is based on the original DM1 Dynamite, with which it shares the pencil design and basic architecture. The 19 x 95.5 mm metal tube weighing 80 g is fitted with gold-plated XLR input and output on the ends, so the preamp can be easily integrated between the microphone and cable.
Of course, the DM2 TNT has an active concept (48V phantom power) and is capable of increasing the gain of the signal by 15 or 30 dB. In addition to the two-position sliding gain switch, the preamp body is also equipped with a small rotary Load switch with eight impedance modes (50 Ohm to 20 MOhm). The circuit is built on low-noise Class-A FET transistors and also acts as a buffer, eliminating signal loss caused by long cables and reducing susceptibility to RF interference. The price is around €140.