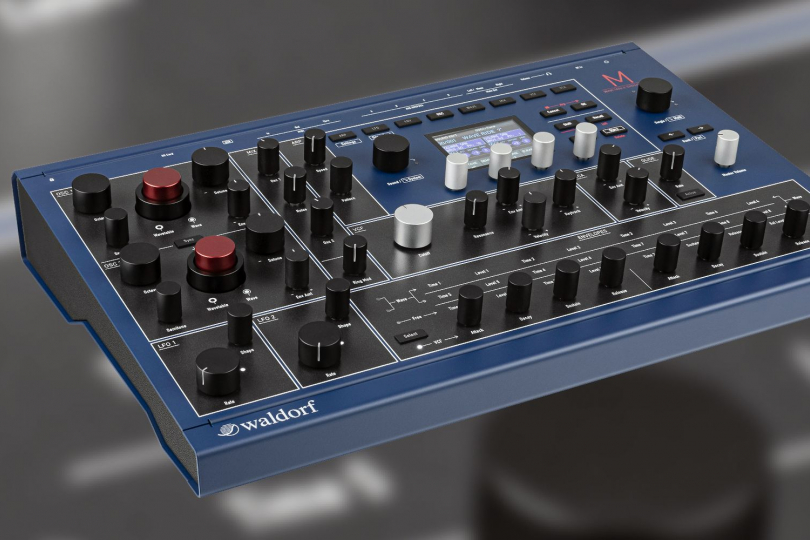 Waldorf M: Wavetable Synth With Iconic Sound
With the compact M wavetable synthesizer, the German brand Waldorf returns to the classic Microwave synth and its successor Microwave II. The multitimbral model with eight-voice polyphony is equipped with a pair of oscillators operating in Classic Microwave 1 and Modern Microwave II/XT modes, an equal number of LFO units with Rate and Shape controls, analog filtering, an arpeggiator, four envelope generators, and many other features.
The user has a total of 2,048 sound programs divided into 16 banks of 128 samples each, supplied by well-known sound designers, including all the classic Microwave sound registers such as the MW1 Factory Sound Set, MW1 Soundpool 1-5, the massive sounding Analogue and Bassco, as well as PPG Wave 2.3 sounds cleverly converted for the original Microwave.
Included, of course, are freshly programmed samples, taking advantage of Waldorf M's myriad new features: from true hard Sync (when working in Modern Microwave II/XT mode) to an arpeggiator or MIDI-syncable global low-frequency oscillator.
As a classic next-generation hybrid wavetable synthesizer, the Waldorf M boasts a 24 dB/Oct VCF analog low-pass filter: SSI 2144 ILT (Improved Ladder Type) with resonance and analog saturation parameters plus a true stereo panning analog VCA. Unlike other Waldorf synths, however, the M Model does not integrate any modulation matrix, which the manufacturer says is a conscious design decision—the modulation parameters are set directly on the relevant display page, in the company's homage to the 1989 Microwave synth.
There are 96 factory wavetable presets + 32 user slots to choose from, the arpeggiator above offers 16 presets and a Chord mode, there's an SD card slot, MIDI clock, line output, USB 2.0 port, four TRS outputs, etc. The Classic Microwave 1's wavetable oscillation mode, in which the 16-bit signal is reduced to 8 bits, uses a non-antialiased 240kHz sample rate, and there's no Hard Sync or circular modulation.
In contrast, the Modern Microwave II/XT mode offers a 40 kHz sampling rate with a band-limited wavetable, although both oscillators (OSC 1 and OSC 2) have the same parameters. The hybrid analog-digital synthesizer Waldorf M, with dimensions 440 x 305 x 85 mm and a weight of 5.7 kg, is offered by Waldorf for slightly above 1500 euros.
If you have found an error or typo in the article, please let us know by e-mail info@insounder.org.