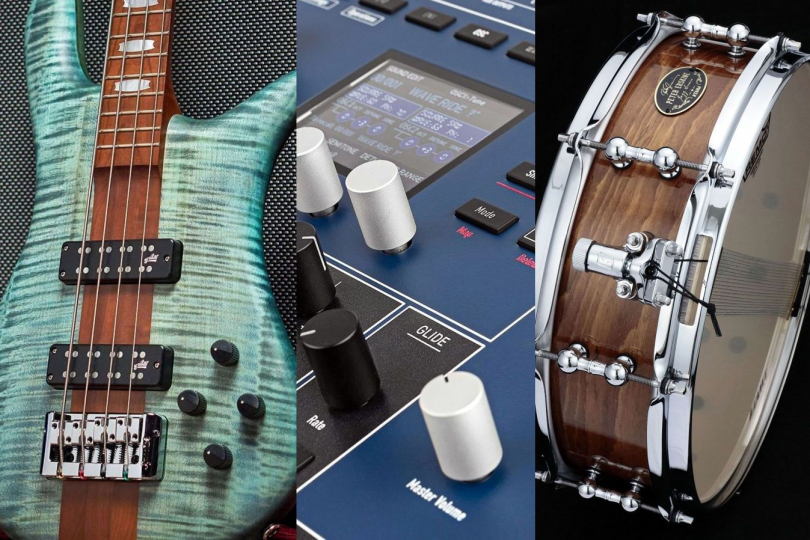 Miscellaneous Gear Alert: December 2021
Do you play bass, drums, or keyboards? Are you DJ, singer, or sound engineer, or a studio aficionado? Then every third Monday of the month is "your day" here on Insounder—with a quick overview of gear, new releases that will be on the market in the current or upcoming period and that you shouldn't miss. A similarly conceived article is dedicated to technical equipment for guitarists on every first Monday of the month. Some of the products introduced in this overview will be discussed in more detail in later posts here in the News section.
As you could read in the opening paragraph, "Miscellaneous Gear Alert" is normally published every third Monday of the month—but due to the upcoming holidays, we present you this month's hot news a week in advance, so you will have some time to spare for choosing the right gift for your music-making friends and family.
Bass guitar
Aimed primarily at players of more extreme styles, this bass has a body made of sungkai wood, whose ash-like grain is accentuated by the Blood Red Open Pore transparent lacquer; a neck with a comfortable C-profile is glued from five layers of maple and jatoba; the ebony fingerboard holds 24 super jumbo frets; and the octave position is adorned with the brand's traditional logo, but this time in blood red.
The strings are anchored in the high-mass bass bridge which improves sustain, the reverse-designed headstock in the same lacquer as the body carries Solar tuners with a 17:1 gear ratio, and there's a pair of Solar Tesla Soapbar humbuckers connected to an active preamp with overall volume, balance, and dual-band EQ. The price is around 750 euros.
The updated Artisan Series models feature an ash top on a mahogany body; a bolt-on neck glued from five pieces of walnut and panga panga wood is attached via an ergonomic joint; and a 15.75-inch radius "baked" maple fingerboard offers 24 jumbo frets. A new type of MetalCraft M4 or M5 bridge was used, and lightweight Ultralite tuning machines were supplied by Hipshot.
The electronics consist of two Bartolini MK-1 soapbar pickups, an active circuit of the same brand, common volume, blend, three-band EQ, and a lever switch to switch between active and passive modes. Cort supplies these instruments in Open Pore Trans Black, Open Pore Burgundy Red, or Open Pore Natural.
Four- and five-string basses with luthier Stuart Spector's acclaimed design feature a three-piece through-neck made of heat-treated maple, exotic paulownia body, and an annealed maple top. The fingerboard is made of the same material and is fitted with 24 jumbo frets, position markers made of genuine mother-of-pearl, and a solid brass nut (42 and 46 mm wide, respectively).
The four-string version with the RST4 aluminium top-loading bridge has a standard scale length of 34 inches, while the five-string (RST 5 bridge) has been given an extended length of 35 inches. Both instruments feature a pair of Aguilar Super Double 4SD-D1 or 5SD-D2 pickups with Alnico V magnets, as well as an Aguilar OBP-2 active preamp. You can choose between Turquoise Tide, Sundown Glow, or Sienna Stain Matte lacquers.
This edition of compact bass boxes from the production of the well-known German brand includes a total of five models of Gnome CAB and Pro CAB with power outputs from 150 to 300 W. Depending on the specific type, the cabinets are equipped with speakers with a diameter of 8 to 12 inches, adjustable tweeter, and unconventionally designed rear bass reflex.
Equipped with a 4.3-inch TFT LCD touchscreen, this bass preamp/multi-effect features four mods—Effect Board, Bank/Patch Memory, and a Looper. One of nine footswitches is dedicated to the emulation section of Tube-1, Tube-2, Solid State-1, Solid State-2 DI boxes. The other two switches are used for Bypass or Input Select, which is a choice between two instrument inputs with different impedances, so that you can have basses with active and passive electronics connected to the B6 input circuit and just select the appropriate channel with the footswitch when changing instruments.
In addition to modelling 13 amplifiers, there is an extensive effects unit and IR section with 12 box simulations, which also allows the use of custom samples. Signal conversion is taken care of by 24-bit converters, signal processing works with 32-bit/88.2 kHz resolution, and the storage has room for 240 user presets. Of course, there's a micro USB port and SD card slots or the optional BTA-1 Bluetooth adapter that communicates with the Guitar Lab app. The price, including Steinberg Cubase LE DAW software and power supply, is around 450 euros.
This plug-in featuring the former Motörhead frontman's sound was built by Swedish software company Softube on Lemmy's favorite modified Marshall Super Bass 100W amplifier, nicknamed Murder One, and of course added emulation of his custom-made speakers. The setup was engineered by Motörhead producer and Grammy winner Cameron Webb, who used Lemmy's Marshall MF280L 4×12" and Marshall 1979L 4×15" boxes in the studio, which can be heard on Motörhead studio and live albums.
There are also presets for bass and guitar, and Shure SM7B, SM57, AKG D12 VR, and Sennheiser MD421 virtual microphones that can be used in pairs. The plug-in supports sample rates of 44.1, 48, 88.2, 96, 176.4, 192 kHz in mono/stereo mode and Windows 10 64-bit or Mac OS X 10.13 and higher are recommended. The introductory price has been set at 89 euros.
Keys
The dimensionally unpretentious wavetable synthesizer M from Waldorf Music represents a return to the older Microwave model and its successor Microwave II. The multitimbral synth with eight-voice polyphony is equipped with a pair of oscillators operating in Classic Microwave 1 and Modern Microwave II/XT modes, an equal number of LFO units with Rate and Shape controls, analogue filtering, an arpeggiator, four envelope generators, and a host of other features.
The bank includes 96 factory wavetable presets plus 32 user slots; the aforementioned arpeggiator offers 16 presets and a Chord mod; an SD card slot, MIDI clock, line output, USB 2.0 port, four TRS outputs, etc., are all integrated. For the Classic Microwave 1 oscillation mode, the 16-bit signal is reduced to 8 bits at a sampling rate of 240 kHz and the player has 2,048 sound programs divided into 16 banks of 128 samples. Waldorf M can be purchased on the European market for a price of about €1,815.
A new generation of USB MIDI controllers, including V25 MKII, V49 MKII, and V61 MKII, differing in keyboard range. All versions are equipped with eight backlit velocity function pads with assigned Full Level and Note Repeat parameters, familiar from the AKAI MPC product line. There are also four assignable knobs for controlling software instruments and DAW applications via MIDI mapping. The models also feature buttons for octave or transpose movement and a pair of modulation and pitch-bend wheels.
Compared to the previous series, for example, an arpeggiator has been added with six modes, including time setting and gate, swing, and tap-tempo functions. On the rear we find a jack input for the sustain pedal and a USB-B 2.0 port, also used for power. The V Series MKII is compatible with both PC and Mac platforms, starting with Windows 8 (x64) and macOS 10.13.6. The controllers from the Alesis V MKII collection can be purchased on the European market for the following prices: V25 MKII = approx. €80, V49 MKII = approx. €100 and V61 MKII = approx. €139.
Drums
A new range of cymbals, represented by eight models in a total of fourteen sizes, some of which can also be purchased in the form of Classics Custom Dual Complete or Classics Custom Dual Expanded sets. 
The Classics Custom Dual series provides a warm base tone, and the lathed, carefully polished edges provide plenty of transparent treble. The bells of the cymbals have a special dark finish and the surfaces are additionally hammered, resulting in a fairly intense projection, complex character and immediate response with precise response to the force of the strike. The medium-weight cymbals are made in German workshops from B12 alloy, and Meinl recommends them to drummers working in a variety of genres, from pop to the more extreme styles of metal.
Prices for the hi-hats (14", 15") range from about 270 to 300 euros, while the stand-alone cymbals start at about 90 euros for the Classics Custom Dual Splash 10" and end at about 320 euros for the Classics Custom Dual Ride 22". 
Signature snare of an excellent, stylistically wide-ranging player, former member of the famous bands Weather Report and Steps Ahead. The 6mm thick drum walls are glued together from 4 layers of laminated spruce and two inner maple sheets, and the bottom edge is reinforced by an equally thick SFR (Sound Focus Ring) made from an identical configuration of woods.
Triple-bent 2.3 mm thick SAH steel rims were used, and an emblem with Signature Palette lettering, serial number and Erskine's signature is glued inside each snare. The hardware is complemented by the patented Linear-Drive strainer/butt and the new MS20RL14C snare wire with modified carbon springs. The price of the Signature model shod with Remo heads is just under €500.
Studio
A small-diaphragm condenser microphone with an OCC7 capsule, which is based on the iconic AKG CK1 model. The microphone is particularly suitable for recordings where it is necessary to reproduce fast transients and capture spatial information without unwanted distortion. The CC8's specialty is the recording of various acoustic instruments: strings, brass, percussion, but also vocals, acoustic guitar, or piano.
The microphone, which can also serve as an overhead, has a frequency range of 20 Hz - 20 kHz, the maximum SPL level reaches 156 dB, the power supply is handled by a 48 V phantom, a second-order 60 / 120 Hz hi-pass filter switch is integrated, and there is a pad switch with -10 dB and -20 dB attenuation. The CC8 can be purchased for about €408 and the manufacturer also offers a calibrated stereo set with other accessories priced at about €813.
A hybrid controller designed to control Akai MPC 2 sampling and arranging software, which includes most of the features of a full-featured DAW application and supports both PC and Mac systems. Controls consist of 16 backlit pressure and velocity sensitive trigger pads, touch strip, main encoder and recording section buttons, selecting any of eight banks (A - H), sample selection, quantize, tap tempo, tuning, etc.
With the MPC2 platform, a multitude of sound banks, tools and effects are available, including samples and loops from Sample Tools by CR2, Rawcutz, F9, MSXII Sound Design and MVP Loops, or the AIR Vocal Insert Effects and Hype Plugin Synthesizer plug-ins. The MPC Studio MK2 is priced around €270.
This edition of USB-C audio interfaces, for which the American brand has set more reasonable price tags, consists of the Volt 1 (1in/2out), Volt 2 (2in/2out), Volt 176 (1in/2out), Volt 276 (2in/2out), Volt 476 (4in/4out) models, and the UA Volt 2 Studio Pack and Volt 276 Studio Pack sets with the Volt 2 or Volt 276 interface supplemented with a condenser XLR microphone and closed-back headphones are also available.
At the heart of this product line are preamps with the Vintage Mic Preamp mod, emulating the warm tube sound of the famous Universal Audio 610 tube consoles used in many professional studios. From the Volt 176 and up, the interfaces feature the 76 analogue compressor, based on Universal Audio's iconic 1176 rack compression. A 48V phantom power supply is built in and the stylish vintage design is accentuated by the wooden chassis sides on the x76 versions. European prices start at around €140 and the audio interfaces also include software.
A tube condenser microphone that should offer the qualities of the benchmark Sony C-800G, which can be heard on many recordings, including projects with almost unlimited budgets. The WA-8000 features switchable cardioid and omnidirectional characteristics, and the circuit is built on the company's K-67-inspired gold-plated brass capsule, complete with a 6AU6 NOS tube and custom output transformer from Swedish brand Lundahl.
Warm Audio's WA-8000 large-diaphragm condenser with a maximum dynamic SPL of 134 dB comes complete with an external power supply, power cord, five-meter Gotham GAC-7 seven-pin cable, shock mount, and hard carrying case. The official price of the whole set has been set at about €1,322 for the European market.
If you have found an error or typo in the article, please let us know by e-mail info@insounder.org.