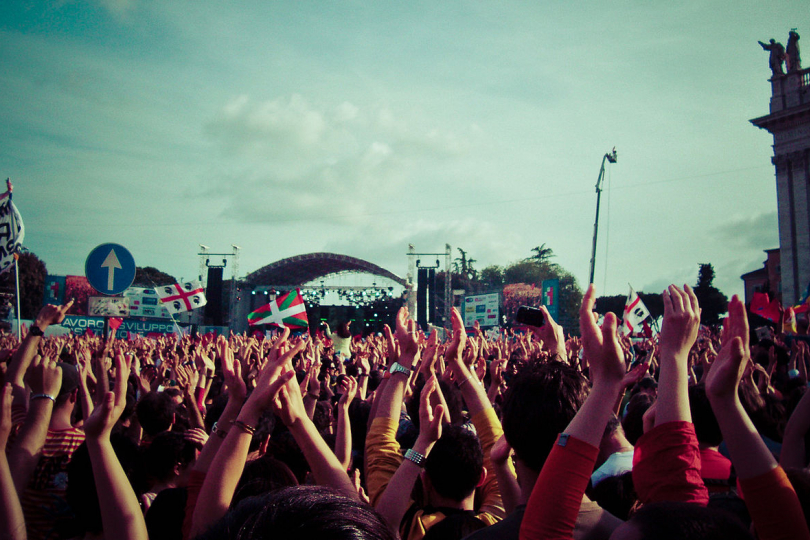 Concerto del Primo Maggio 2006 | Photo: Maria Grazia Montagnari (Creative Commons)
All Eyes on Italy: "Dolce Vita" as a Synonym for Music
Italy is a well-known country for many things: food, history, architecture, landscapes, people, cinema, art, love… and music of course! Leaving aside the origins and development of Italian music (part of which I discussed in this article on noise), the contemporary Italian musical world is dotted with many different realities, large and small. After having zoomed in on the Netherlands and Argentina in the previous articles of this series, today all eyes (and ears) are on Italy's festival scene!
Music in the country
The landscape of the country is very varied, as are its customs and traditions, as well as its many dialects and cultural influences.
The musical language is also varied, because in each region there are many small contexts in which it is possible to see the birth of bands, events, festivals, belonging to different genres and cultural realities.
In small villages and small towns, cultural or social events are organized throughout the year and on a regular basis. These events usually have a particular theme (political, cultural, social, religious, etc.), and the program includes the performance of musical groups and performances of various kinds. We can say that this is the way for small bands to make themselves heard. It is usually very easy to participate: there are no selections, so it is very likely that you will get the chance to play. There are also cons, however: often the performance fee is little or nonexistent, and the band must provide all the necessary equipment for the performance themselves (except lighting and audio technicians, usually).
On the other hand, you can see it as a showcase and an opportunity to get to know other local bands without having to go begging for concerts in pubs and clubs that pester you for ticketing and advertising.
Obviously, there are also small and interesting realities: during the spring and summer, traditional festivals (religious and otherwise) are organized in the villages. These usually promote ethnic and folk music. They used to be dedicated only to the more advanced age groups, but recently, more and more young people are participating in these events. In Italy, especially in recent decades, a desire to "return to the origins" is stirring, and these events respond perfectly to this need. In fact, there is a rapid spread of the phenomenon, and throughout Italy there are hundreds of thousands of events of this type.
Music in the city
Beyond the local realities, the Italian panorama expands exponentially: taking a look at the events scheduled in the cities, especially in the major ones (Rome, Milan, Palermo, Bologna, Turin, just to name the most obvious examples), you realize that the possibilities of being able to play or attend a concert are innumerable. Small clubs usually organize weekly jam sessions or open mic, where it is possible to perform alone or in the company of completely unknown musicians, improvising and having a good time.
In addition, in the big cities it is easy to organize gigs (paid even!), either alone or with other bands. The social centers and cultural associations of the big cities always organize such events, summoning many local (and not) bands, and creating an interesting underground music scene. The main self-managed and autonomous social centers in Italy are Forte Prenestino in Rome, Leoncavallo in Milan and Officina 99 in Naples.
Social centers in Italy were the first to import genres that were not properly relevant to the tradition of the country and a little out of line, such as hip-hop and rap, punk, hardcore, new wave—and this also gave way to the phenomenon of zines—and more recently experimental and electronic music.
In a bigger picture, the opportunities to be seen live or to see concerts with the names of leading Italian or international artists are endless. The presence of more or less historical festivals, and the difference of the genres proposed, create an offer for the palates of all tastes.
Every year on May 1st, in Rome, since 1990, hundreds of thousands of people (up to half a million and a little more) gather in the square of San Giovanni and in the park adjacent to the church itself to experience a whole day of music. The Concerto del Primo Maggio is a very long event that starts at noon and ends at midnight, in which artists of national and international fame perform. I myself happened to see quite popular Italian artists (Afterhours, Subsonica, Quintorigo, Bluvertigo) and international ones (Nick Cave & The Bad Seeds, in 2003). Many other well-known musicians played on this stage: Iron Maiden (1993), Lou Reed (1994), Radiohead (1995), just to mention a few.
There is also the possibility for lesser-known artists to perform, usually in the afternoon hours. I think this is probably the most attended event, so much so that over the years some "anti-May 1st" festivals were born, to counter the mainstream wave of the Roman event and give a more underground touch as, for example, the one held two years ago in Taranto.
Oh come, all ye buskers (and jazz cats and rockers... etc)
Another festival worthy of mention is certainly the Busker Festival in Ferrara, where every year various musicians and street artists converge, performing in the streets of the city.
Other two historical festivals are Collisioni and Goa-Boa, both in the north of Italy since 1998: they both present commercial and niche music. Moreover, worth of mentioning is the Independent Days festival in Bologna, existing since 1999, dedicated to punk, rock and indie music. Lucca Summer Festival and Umbria Jazz are other two very interesting initiatives as per what concerns respectively alternative and jazz music (national and international).
Over the years, festivals come and go. Although many events have disappeared over the years, mostly due to economic causes or mismanagement, the growing use of digital music has increased attendance at live music events and artistic performances in general. Young people, but also older age groups, invest heavily and book season tickets for festivals (especially summer ones) well in advance.
These are some new interesting Italian festivals to check out: Nameless Music Festival (Annone di Brianza); Locus Festival (Locorotondo); Ypsigrock Festival ( Castelbuono); Club To Club (Torino); Movement (Torino); FRAC Festival (Catanzaro); Home Festival (Venezia).
Are you going to reserve your tickets? :)